CHFD History and Facts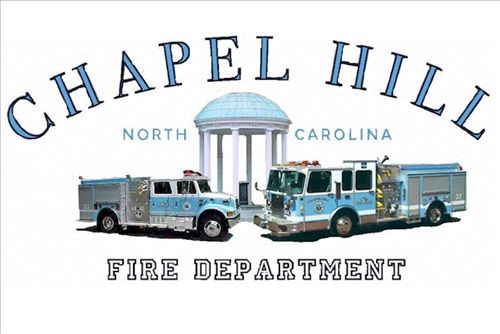 History of the Chapel Hill Fire Department
Some of the research has been through archives or word of mouth. Here are some of the interesting facts verified through multiple sources:
Inception of the department was March 2, 1896, when a petition from certain citizens proposing to operate a fire company was laid to committee. It was looked on in favor but the municipality had no funds at the end of the year.
On September 23, 1901, the Town Board authorized the Finance Committee to purchase a hook and ladder truck, not to exceed $200. It would supply both the university and the town with fire protection. In 1903, a hook and ladder outfit was purchased for $190.
In May 1902, the first fire chief was elected. He was John O'Daniel. Before then, it is assumed that there was some type of bucket brigade. A volunteer department staffed with "call men" lingered into the 1960's when the first full-time paid staff appeared.
Also in 1902, plans were drawn up for a fire house located in the middle of Franklin Street. It was supposedly, at that time, the only fire house in the country located in the middle of the street. Unfortunately, a car crashed into the station.
On March 14, 1916, the department was authorized to purchase a 1914 Model T for $600 using money from both the Town and University. It is one of the oldest motorized apparatus in North Carolina and is stored in the Chapel Hill museum.
A similar deal was proposed again in 1921 with UNC paying for half of a 750 gallon per minute American LaFrance.
In 1996, the first of the Carolina Blue Fire apparatus appeared. "Blue 32", a 1996 Ferrara Spartan housed at Station 2. This was a joint venture between the Town, UNC and UNC Hospitals. The popularity of "Blue 32" started the trend for our current Engines and Trucks to be DuPont copywrited Carolina Blue.
Our next fire station to be authorized was in 1921. It was actually a "Town Hall" Building housing the fire department and other town departments. Its location was on Columbia Street near Rosemary Street. It is still Town owned and now houses the Inter-Faith Council's Men's Shelter.
Current Fire Stations and Apparatus
Station 1 and current Fire Administration, built in the 1960's, is located on Martin Luther King Jr. Boulevard (once called Airport Road) and Columbia Street downtown. Station 1 houses Engine 31, a 2001 KME Commercial Chassis; TAC51, a 2005 Ford 550 Brush/Parking Garage CAFS unit; and Chief 4, the Battalion Chief's SUV.
Station 2, built in the 1950's, is located at the corner of Hamilton Road and Raleigh Road (NC 54) in "Glen Lennox". Station 2 houses Engine 32, a 1996 Ferrara Custom, the first "Carolina Blue" unit.
Station 3, built in the late 1960's/early 1970's, is located at Elliott Road and E. Franklin Street. Station 3 houses Squad 33, a 2000 KME Commercial Chassis Rescue Pumper; and Truck 73, a 2006 KME Predator Chassis Custom 100' mid-mount Aerial Platform Quint.
Station 4, built in the 1980's, along with our Training Facility is located at the corner of Weaver Dairy Road Extension and Martin Luther King Jr. Boulevard. Station 4 houses Engine 34, a 2004 KME Custom Chassis Pumper. Our Training Facility is the home office of the Training Division and includes a classroom, 2-story burn building, 4-story training/smoke tower, and apparatus service test pit.
Station 5, built in 2004, in conjunction with a southern annexation, is located at Bennett Road and US 15-501. Station 5 houses Engine 35, a 2001 HME Custom Chassis Quint; and the Orange County Chiefs Association Fire Safety Training Trailer.
Station 6 is in the very early planning stages, in part with the development of Carolina North, a UNC educational and research campus.
For more valuable information, please visit: www.townofchapelhill.org/fire
Local 2580 History and Facts

First IAFF Local 2580 chartered in June of 1977 with 11 charter members listed on the original charter. The original charter is on display at CHFD Station 1.
First Local / Association disbanded circa 1998.
Current IAFF Local 2580 re-chartered in August of 2001. Forty-Eight (48) members signed the 2001 charter. It, too, is also on display at CHFD Station 1.
Discussion about reinstituting the Association and IAFF Local occurred in late 2000, early 2001 after the off-duty death of CHFD Brother Pete Sznerch, who, along with his daughter was killed in a motor vehicle crash in Florida in December of 2000. Brother Sznerch, who was a IAFF member at his original department in Pinellas Park Florida, had several pieces of IAFF identification with him and his vehicle. The identification alerted responding Florida Firefighters that they had a brother in need. The local in Florida stood by in the hospital with Brother Sznerch's surviving family, taking care of any needs and providing financial support until they returned to North Carolina.
2 time PFFPNC Local of the Year.
90% participation rate in an open shop local.
Chapel Hill & UNC Facts
Town of Chapel Hill Facts
The name "Chapel Hill" is derived from the combination of New Hope Chapel (built in 1752) and the hill it stood upon. The location was near modern day Carolina Inn along Pittsboro Road (now Columbia Street). The chapel was often referred to as the "chapel on the hill". Over time, it was shortened to Chapel Hill.
2004 census shows a population of 52,440 residents, which does not factor in the population of UNC that doubles the population during most of the year.
Old East, a landmark on the list of National Historic Places, is the oldest state university building in the country and is still in use today.
For more information, visit: www.unc.edu
Page Last Updated: Aug 18, 2009 (13:57:00)
| | | | | | | |
| --- | --- | --- | --- | --- | --- | --- |
| S | M | T | W | T | F | S |
| | | | | | 1 | 2 |
| 3 | 4 | 5 | 6 | 7 | 8 | 9 |
| 10 | 11 | 12 | 13 | 14 | 15 | 16 |
| 17 | 18 | 19 | 20 | 21 | 22 | 23 |
| 24 | 25 | 26 | 27 | 28 | 29 | 30 |
| 31 | | | | | | |